Food and Agriculture

Farming includes both growing and harvesting crops and raising animals. Agriculture is another name for farming. It provides the food and many raw materials that we humans need to survive.
It is, therefore, the most important industries in the world.
One of the main threats to agriculture is climate change.
Variable weather patterns, heatwaves, water scarcity, droughts and floods are already affecting entire food value chains: from production and harvesting, to processing and transportation, to marketing.
These in turn affect food availability, reduce access to food, and affect food quality.

Your voice can be very powerful in reducing the negative impacts of climate change.
Your choices in the way we farm and what we eat can reduce greenhouse gas emissions which are damaging for our planet.
"The response to climate change today will determine how we feed future generations tomorrow".
Food and Agriculture Organization of the United Nations 2022
Agriculture is feeding the world's 7.3 billion people. This comes at a huge environmental cost. The need of the hour is sustainable food and agriculture on a global scale. See how the Food and Agriculture Organization of the United Nations (FAO) works to make this happen.
Can we create the "perfect" farm? Places where we can produce food while protecting and restoring our planet.
This needs global cooperation and coordination. Would you like to take part in this food revolution? Here's how you can.
Where does our food come from? Why must we buy locally? How does that help the planet? What are food miles? And why transporting food from far-off places can have a negative impact on our environment. All your questions are answered here.
Food and Agriculture in Jersey
Jersey is well known for its farming and fishing communities, and we are so lucky to enjoy the wonderful goods that they produce.
During the spring, you can see the Jersey Royals being planted, our beautiful Jersey cows grazing in the fields, and fisherman bringing in a variety of fish and molluscs, including Jersey's famous oysters and lobsters.
Although Jersey is also known for many other vegetables, cheese and fruits, the produce mentioned above is the most internationally famous.
You can help your child learn more about these topics by exploring our links and getting out across the Island.
The big 4 Jersey Oysters, Jersey Lobsters, Jersey Royals, Jersey Cows
Jersey Royals: where to get the pick of the crop 
Discover Jersey Dairy and our island's herd 
Jersey Pearl - Carbon Neutral Pearls
GROW – AND THRIVE - RURAL (ruraljersey.co.uk)
The Sustainable Cooperative Jersey (scoop.org.je)
Food for thought
During term time particularly, we're all rushing to school, to work, to after school-classes and play dates.
We tend to eat in a hurry and especially in the mornings.
Oftentimes, we also skip meals. We eat on-the go as we try to fit as much as possible into our daily schedules.
Do we think enough about what we eat?
Are we eating the right foods and the right amount?
Is what we eat also good for the environment?
To help you answer these questions and as food for thought, we'd like to share with you
Eight tips to eat more sensibly and protect the planet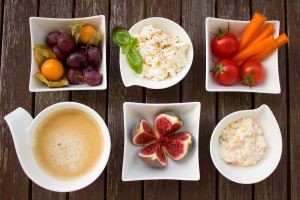 A selection of healthy sustainable recipes